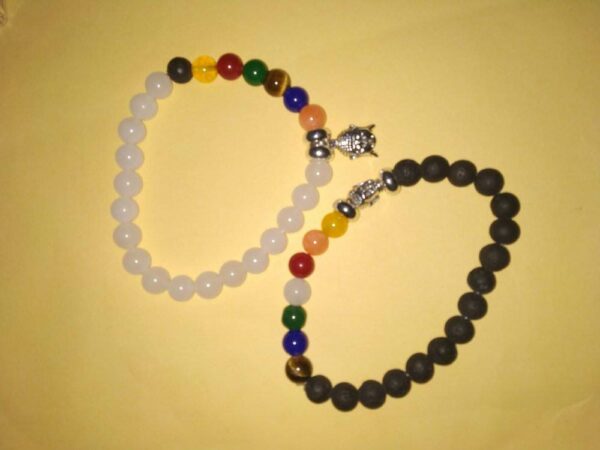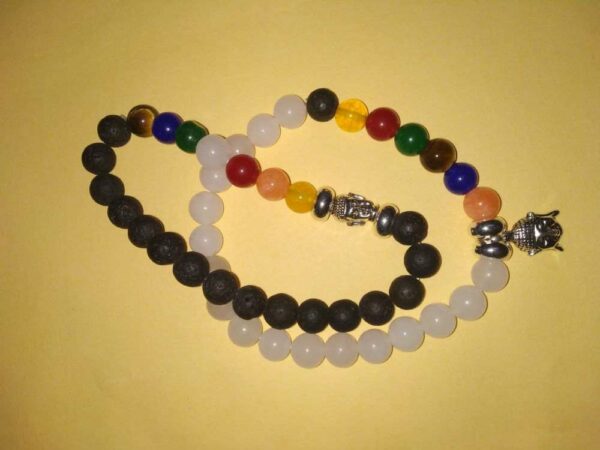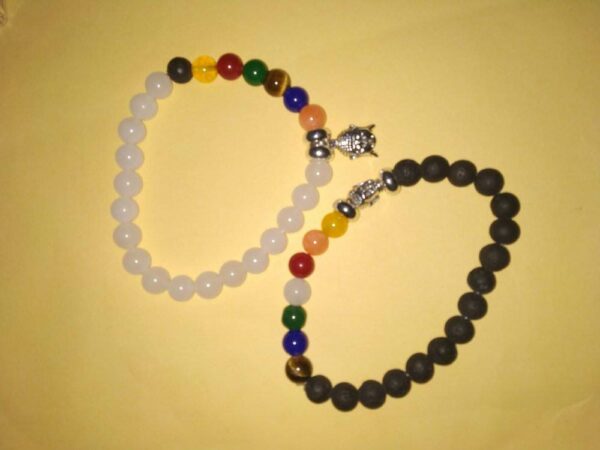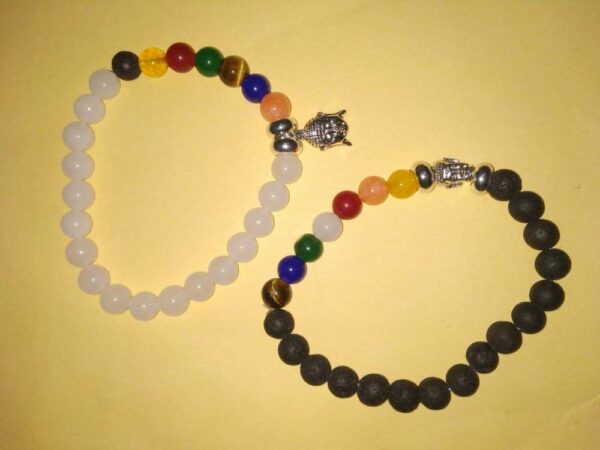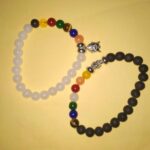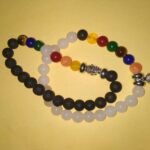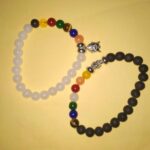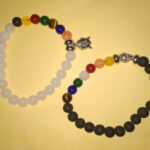 Abhimantrit Bracelet 2 Pieces (Unisex) Lucky Metal tortoise ,Tiger Eye & Multicolour Stone,Lava ( Hakik )
₹1,551.00 inc.GST
It bring good luck.
Colour of Stone might differ according to availability
Description
Additional information
Reviews (0)
Description
Abhimantrit Bracelet (Unisex) Metal Tortoise ,Tiger Eye & Multicolour Stone,Lava ( Hakik ) A stone of protection, Tiger Eye may also bring good luck to the wearer. It has the power to focus the mind, promoting mental clarity, assisting us to resolve problems objectively and unclouded by emotions. Particularly useful for healing psychosomatic illnesses, dispelling fear and anxiety. The Tight Eye is a stone of courage, strength, will and personal power. Black Stone – Lava As the name implies, these beads are formed from the lava which is produced when a volcano erupts.they have many holes and bubbles, which also makes them very lightweight.Lava stone is regarded as a symbol of strength, endurance and strength.It is believed to provide stability in tumultuous times.It dispel anger, cements our beliefs and provides guidance, clarity and hope in difficult times. It helps to improve blood circulation in body and control blood pressure. Special essential oil found in lava stone Which removes skin impurities And is highly beneficial in skin related diseases. Mainly it is used as a healing stone Which removes health problems And enhance energy flow in the body. Lava stone is also used to remove bad influences of Navgreh. It remove the effect of Evil eye on the person And especially it is very beneficial to remove harmful effects of Saturn planet.
Between the Bracelet there is Designed Metal Tortoise, In Engraving of  beautiful 'Tortoise'. This is silver in color and very delicately made.  Bracelet represent Lord Vishnu & Maata Laxmi  and it is said that , the name is enough for everythings its a sign of  happiness and Blessings.  This is silver in color and very delicately made. The tortoise is sacred to and much loved by the Chinese as a symbol of longevity, stability, strength, support and endurance. An animal that is an epitome of good health, the tortoise is the best icon of longevity. There the Crane (another symbol of longevity) is said to live a thousand years, the tortoise is believed to live up to 3000 years and therefore is extremely popular with those who seek to live a long and healthy life. Bearer of the magical Lo Shu square which all Feng Shui theories are based, the tortoise is also a symbol of protection and wealth.
The Long Life Tortoise Bracelet is an auspicious amulet as longevity enhancer and can be attached to any item anywhere you like – your keys, bag, luggage, suitcase, makeup case, wallet, purse, or simply tucked among your knick-knacks. Thus, besides being an elegant accessory, it is a Feng Shui lucky charm with all the protection and blessings associated with the Tortoise symbol. Keep it with you at all time so that your personal 'guardian angel' is always there with you, to protect you from harm and bring you good health and prosperity. This way, the special amulet can work as your good luck charm and protect you not only while you are in your house or at work but also the rest of the time and wherever you go.
In Hindu mythology Tortoise has a special place too. Lord Vishnu's second avatar was Kurma the Turtle who came to help the Devas obtain the nectar of immortality. To churn the sea into nectar, a giant snake was used as a rope and Mount Mandara was used as a rod. When the mountain began to sink, they called upon Lord Vishnu to help them. He incarnated as a turtle and supported the mountain on his back, so that the nectar of immortality could manifest ( Amrit Manthan ) by the Gods and demons churning the sea.
In the Udaygiri caves goddess Yamuna's Vahana ( vehicle ) is a tortoise as she is seen standing under an Ashoka tree.
Carry or hang this Tortoise Bracelet For Longevity in your car, or pop it in your bag to enjoy its auspicious vibes of good health and longevity.
The product is stretchable and it is expanding approx 7 inch after pulling and the bead size is 8 mm. 
Additional information
| | |
| --- | --- |
| Weight | 0.050 kg |
| Dimensions | 18 × 0.80 × 0.80 cm |