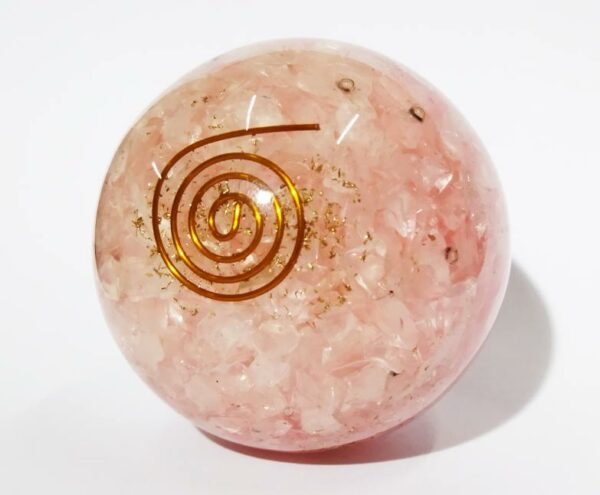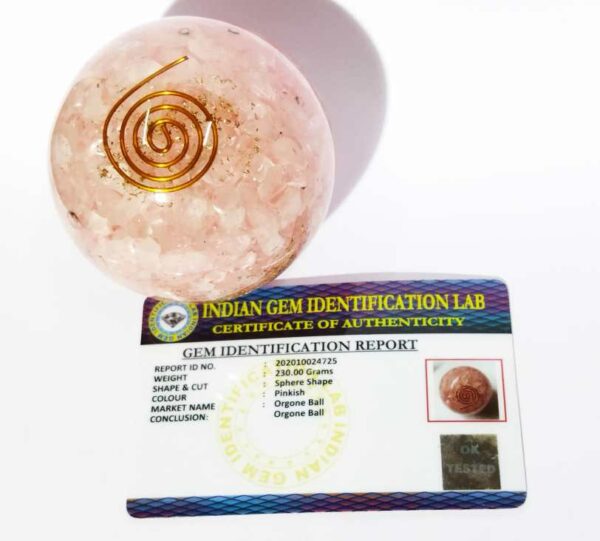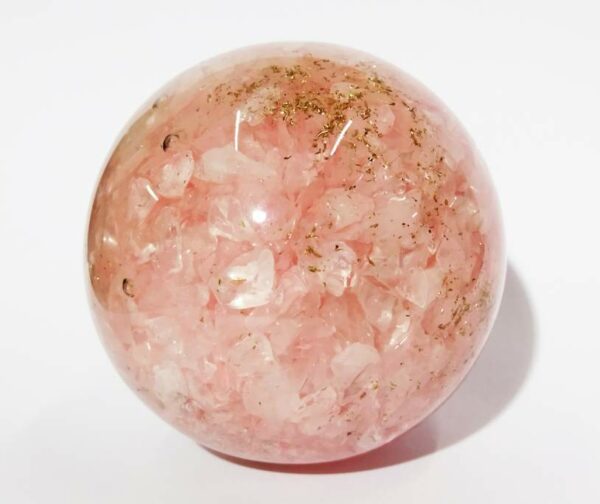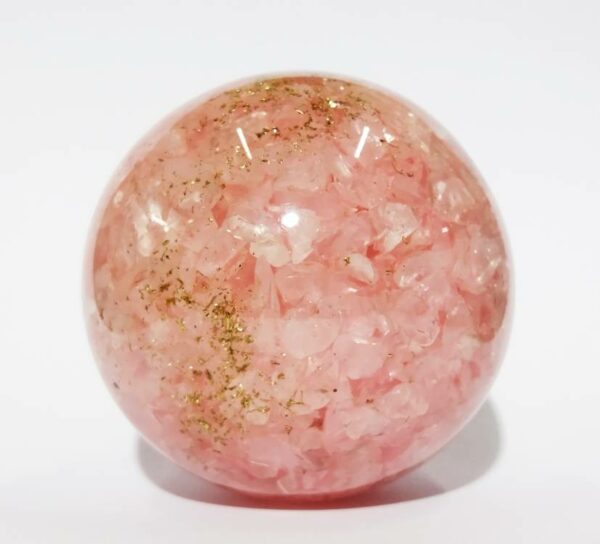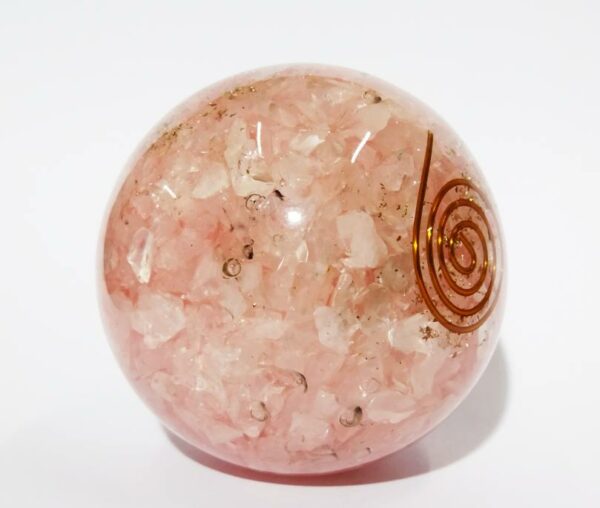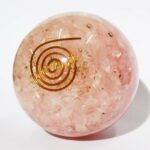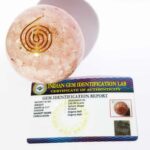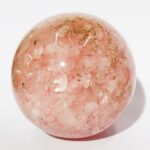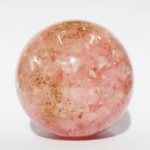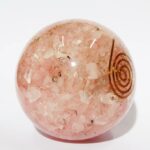 Natural Rose Quartz (Pinkish) Orgone Ball & Certified 221 Gram
₹1,451.00 – ₹1,651.00 inc.GST
Benefits Of Rose Quartz (Pinkish) Orgone Ball.

Emotional calm.

Reduces Stress and Tension.

Releases unexpressed emotions.
Description
Additional information
Description
Product Origin: India
Rose Quartz (Pinkish) Orgone Ball 221 Gram
Rose Quartz (Pinkish) Orgone Ball : A Ball is a source of attracting the highest cosmic energy. Rose Quartz (Pinkish) Orgone Ball – Stone of Love & Relationship. This stone is used to heal any emotional problem and give comfort to anyone's feeling hurt. It also helps you to be in touch with your basic self. With the help of this stone, you can connect with
To understand and foster loving relationship and to bring a gentle energy to one's day use Pinkish Orgone Ball rose quartz crystal pyramid while meditating and releases a Divine loving energy throughout the complete aura

The Indian Ball made with natural, energized and costly heart chakra stones Pinkish Orgone Ball Rose Quartz removes blockages and activates Heart Chakra. It dissolves emotional wounds, fears and angers

Pinkish Orgone Ball with Rose Quartz healing crystals can also remove negative emotions and thoughts within you and releases a Divine loving energy throughout the complete aura

Pinkish Rose Quartz gemstones gives positive energy, increasing creativeness and the imagination and so it proves best for artists, writers and musicians. You can also use Rose Quartz orgone Pyramid to enhance positive self-affirmations

Pinkish Orgone Ball Orgone Rose Quartz Stone Ball can be placed in south west direction of your home according to vastu brings the benefit of harmonious relationship to everyone in home
your spirit guides. This stone is known to attract new love and romance in one's life.
Rose Quartz is also known as "Pink Quartz" or "Love Stone". The rose quartz crystal orgone Ball wakens and strengthens our sense of beauty.
Rose Quartz Ball brings love on different levels, including romantic love, family love, friendship love and more.
The copper meditation Pinkish Orgone Ball Rose Quartz Pyramid is made of rose quartz crystal that releases love energy all around, a Clear Quartz stone at the top of crystals with a copper spiral wire that catches divine energy
As a symbol of love, Pinkish Orgone Ball Rose quartz can certainly help you restore the harmony and trust in your current relationships.
The rose quartz Ball has the power to help in cases of depression, insomnia, mental problems
The Pinkish Orgone Ball rose quartz orgone pyramid helps enhance love of all kinds, including kindness for yourself, loved ones, and all living things.
It dissolves the sorrows, worries, fears and resentments suppressing the heart's ability to give and receive love, and replaces it with healing, comfort and inner nourishment.
Pinkish Orgone Ball Rose Quartz enhances positive affirmations. This beautiful stone promotes receptivity to beauty of all kind.
Rose Quartz Crystals Orgone Pyramid is a wonderful sleep crystal pyramid for children and adults, preventing night terrors and providing beautiful dreams.
Rose Quartz Crystal is a calming and reassuring crystal, brilliant for healing trauma or crisis, including the emotional disturbance of mid-life crisis.
It is also a powerful stone for comforting grief.
Use energy generator Pinkish orgone Ball as good luck gifts for house warming parties or your loved ones as it gives sophistication, peacefulness, overcome with jealousy, fear and cop with anger.
Place in your Sacred Altar or in your Sacred Healing Space. You can also use the pyramid during meditation or in grids.
Pinkish

Rose Quartz

orgone Ball Healing Power and Benefits
Brings deep inner peace

Supports restful sleep

Encourages self-love, self-trust and self-worth

Enhances positive affirmations
Neutralize EMF radiation Clear negative energyAid in meditation Support restful sleep Enhance lucid dreaming Relieve stress Purify the atmosphere Detoxify water Improve plant growth This is a powerful and beautiful Pinkish Orgone Ball with Rose Quartz and Clear Quartz Crystal Point. Vibrationally strengthened by copper and rasin, this unique pyramid can bring loving, healing and harmonizing energies to your home, your office, or your meditation altar.
You can also use it for your meditations, or any other harmonizing ritual.
This powerhouse of healing energy can be the perfect gift for your loved ones or friends.
Can be used for Reiki Healing, Feng Shui, Vastu, Crystal Healing, Meditation, Vastu correction, Reiki Grid and Aura Cleaning 100% Authentic, Original and Natural Healing Seven chakras Stone / Crystal – small holes, crack marks on the surface or inside the stones are often visible Ball helps to create a beneficial environment for your home when used on a regular basis.
It converts the negative into positive ions.
Ball  cleans the surrounding space from the negative subtle energies.
Power of Ball protects from the geopathic stress and also neutralizes its negative effects.
Purifies the atmosphere, detoxifies water. Helps plants to grow better, repels pests, and requires less water.
Mitigates harmful EMF radiation Use Rose Quartz (Pinkish) Orgone Ball plate can be placed under the mattress if there is a master bedroom in the Southeast corner of your house
Additional information
| | |
| --- | --- |
| Weight | N/A |
| Dimensions | N/A |
| Select | Energized, Non Energized |
You may also like…
Abhimantrirt German Silver Kalp Five Mukhi Black Rudraksha Mala (40/45 Bead)

• German Silver Kalp Five face Rudraksha Mala also benefits you in improving your memory and concentration.
•  If you have high aspirations for spirituality, better health, and harmony,German Silver Kalp 5 Mukhi Rudraksha Mala will benefit you the best.
• Wearing German Silver Kalp 5 Mukhi rudraksha is advisable, if you are suffering from heart ailments, blood pressure, kidneys, liver, anxiety, obesity and much more.
• German Silver kalp 5 face Rudraksha also benefits in curing memory loss.

₹

1,451.00 inc.GST

Energized 5 Mukhi Rudraksha with Sphatik Mala in Diamond Cut 108 Bead & Certified

5 Mukhi Rudraksha Sphatik Mala made from Rudraksha & Sphatik crystal gives concentration, cools the body, and calms the mind, Sphatik brings down the body heat of the person wearing mala.
Mala can be used for meditation purposes also.
Wearing Mantra – ॐ नमः शिवाय॥

₹

3,500.00 inc.GST

Abhimantrit Certified Indian Sphatik Shree Yantra (70-75) Gram

Shree Yantra is definitely the answer to all the problems and negativity in our life.

Shree (shri) Yantra achieves much greater affluence, peace and harmony.

Shree Yantra helps in breaking all the Obstacles in our life

₹

2,651.00 inc.GST