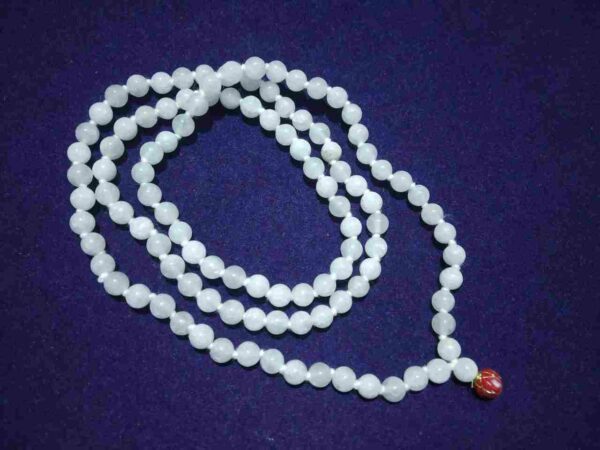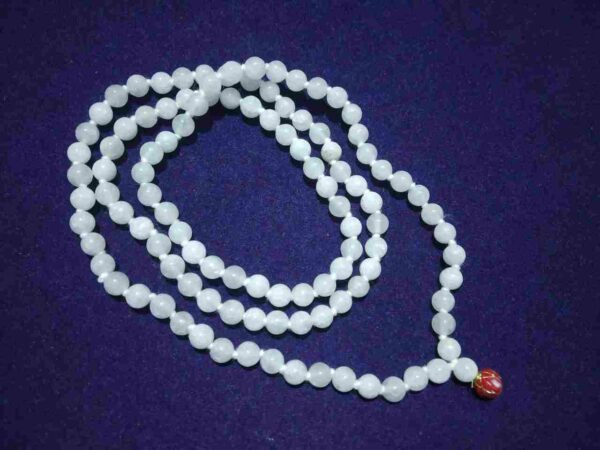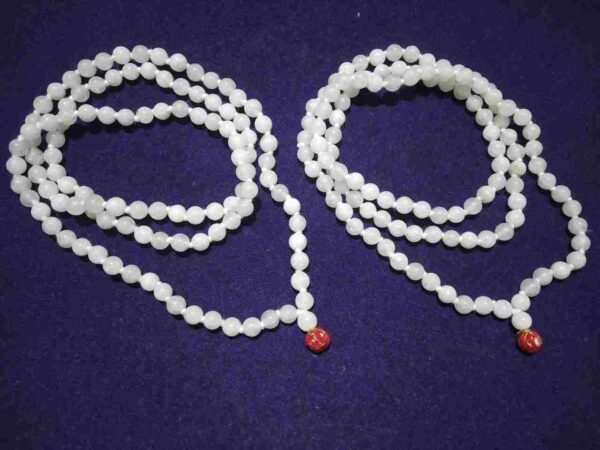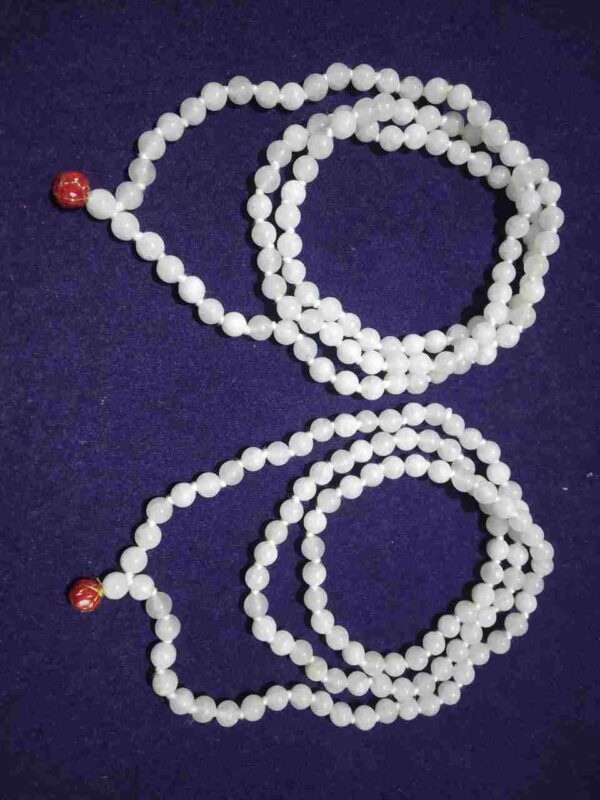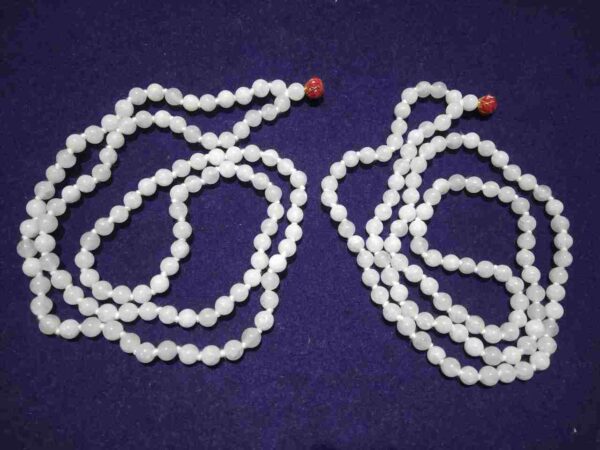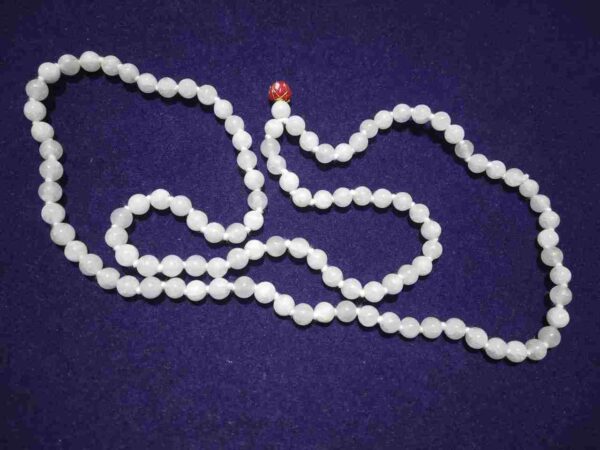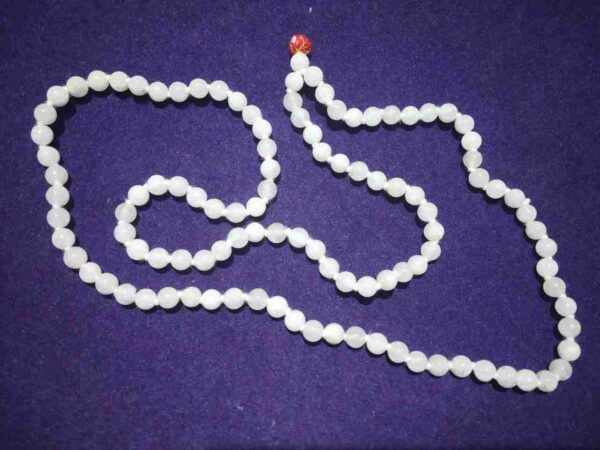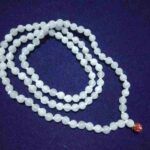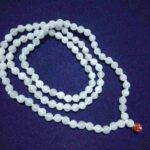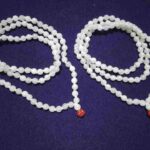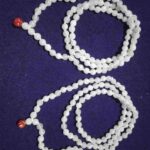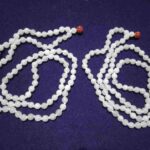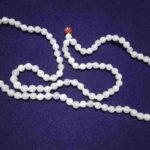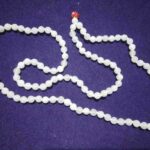 Safed Hakik Mala or White Agate Rosery – For Chandra / Moon- 6 mm
₹1,151.00 inc.GST
The wearer of this mala wil have a peaceful mind as white hakik is a symbol of peace..

It is considered to give strength both mentally and physically.

White hakik is also worn for good luck…

It is useful to remove stress as it is believed to calm the person.
It is used for removing bad effects of Venus Planet.
Description
Additional information
Reviews (0)
Description
Safed Hakik Mala or White Agate – For Chandra / Moon
Hakik or Agate is a semi-precious stone. It comes in different colours. White Hakik is a very powerful stone and is very useful in pleasing Venus (Shukra) and moon.
White Hakik Mala is used for spiritual and meditating purposes. It is used for chanting mantras of Lord Shukra (Venus) during their malefic position in our birth chart.
Strengthen Moon and Jupiter.

White Hakik Mala increases concentration in studies and provides mental peace.

It prevents us from bad nightmares, heals many diseases and prolongs life.

White Hakik Mala encourages fertility and is nice for allergy and ailments related to the bone marrow. White Hakik promotes dedication, self realization, spirituality. It bestows inner peace and balance and brings peace. It enhances willpower also.

White Hakik mala attracts love, attracts good luck, this white Hakik mala is a great healer for many diseases, use this white Hakik mala for success in your life, this Hakik mala promotes readiness

White Hakik Mala promotes determination, self realization, and spirituality; bestows inner peace and balance, calm irritability, and reduces emotional and mental stress. It brings realization to ones potential and devotion to ones purpose. It is the symbol of tranquillity and wisdom.

This is the stone everyone should have for protection. This group of stones are variegated chalcedony. The agate is one of the oldest stones in recorded history.

White Hakik attracts strength. Agate is a protection from bad dreams. It also protects from stress and energy drains. Agates have been used in jewellery since Biblical Babylonian times. They were used to ward off storms. They were prized gems in antiquity. The agates with banded colours were placed at the head of a sleeper to give rich and varied dreams. Agates have been thought to be good to harden the gums.

White Hakik is used for stomach upsets. Place the agate on the solar plexus. The agate can't change emotions, but helps to change our level of acceptance of the emotion. Such as when you are very sad the agate will let you know that this will pass and help you get on to another and better day. This is why the Agate is considered so powerful as it gives us the strength to carry on. Carry an agate when you have to make an important decision.
Additional information
| | |
| --- | --- |
| Weight | 0.034 kg |
| Dimensions | 32 × 0.5 × 0.5 cm |
You may also like…
14 Mukhi Rudraksha Beads -Genuine,Rare & Cheapest -Certified Nepali Beads- 3.74 grms

14 mukhi is the most precious Rudraksha.its also called as Deva Mani , blessed by Lord Shiva ,Lord Hanumaan.

Businessmen , Politicians, Bureaucrats, Managers, Administrators & every person willing to be successful in his/her life must wear this Divine Bead.

₹

40,551.00 inc.GST

Pran-Pratishthit Crystal Mahalaxmi Idol / Murti / Sphatik – ( Energized ) Weight- 49.40 Gram

Blesses with prosperity to the house or office.

No shortage of food, money or clothes.

Brings peace to the premises.

Malefic planetery effects and evils disappear.

Removes ill-effects of Brahmhatya, Gau-hatya and Bal-hatya (Dosha due to killing of a priest, cow or a child in the previous births)

₹

2,491.00 inc.GST