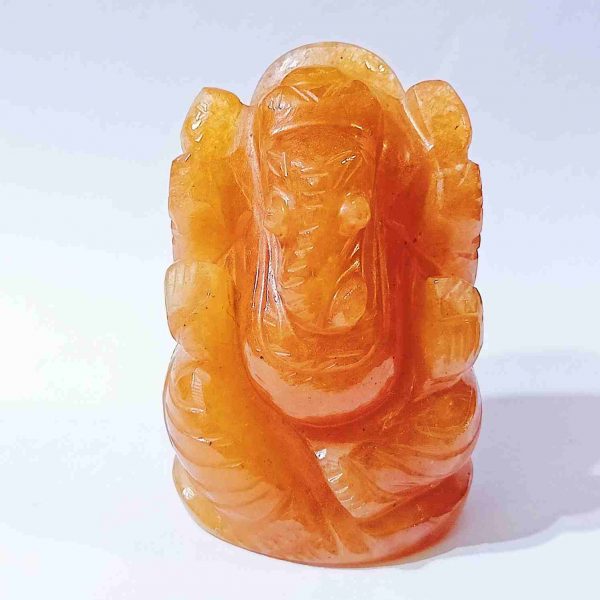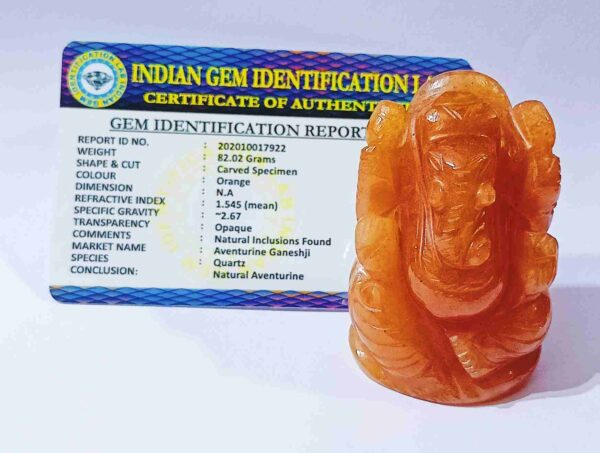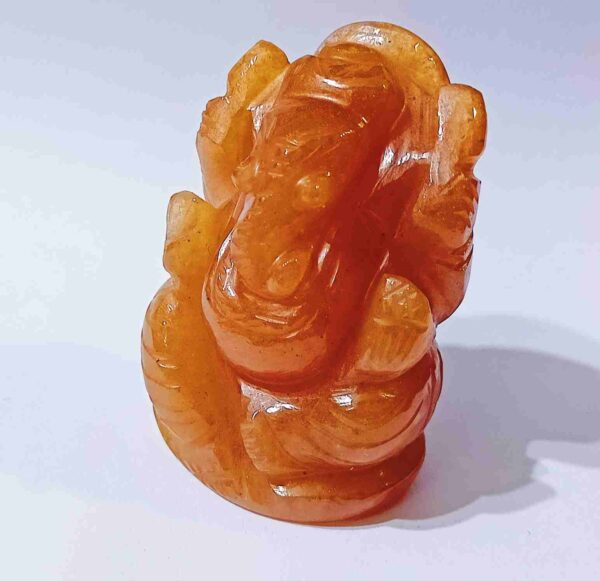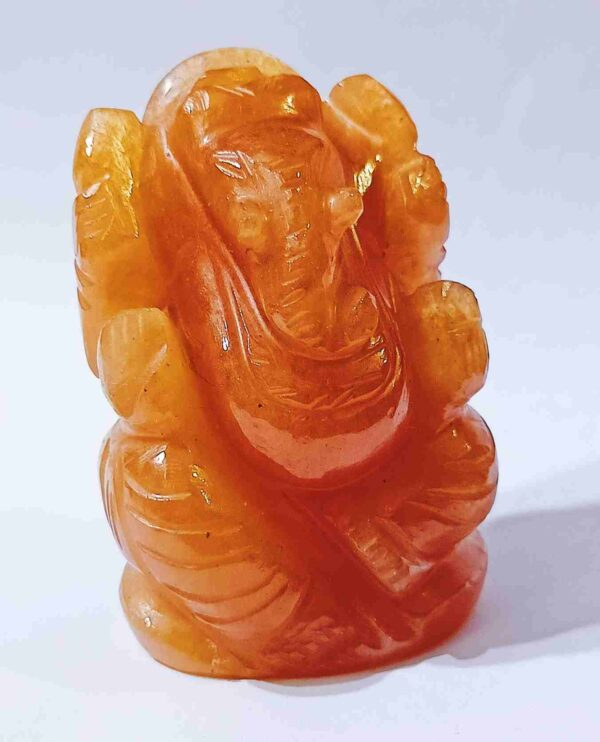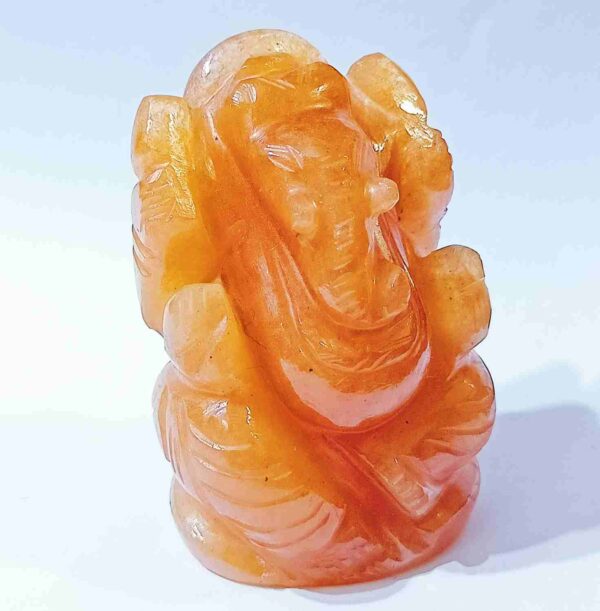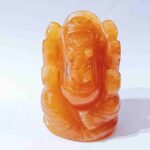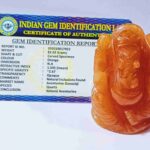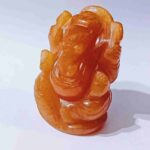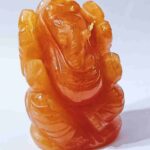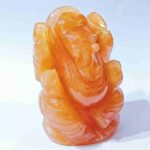 Abhimantrit Aventurine Ganesh Ji Idol 82 Gram Certified
₹2,800.00 inc.GST
Brings strength and self-assurance.

Helps overcome ego and encourages self-forgiveness.

Brings spiritual growth.
Description
Additional information
Description
Product Origin: India
Abhimantrit Natural Orange Aventurine (Sindoori) Ganesh Ji Idol Genuine & Lab- Certified 82 Gram For Kitchen Vastu Dosh @25 Gram
Natural Orange Aventurine lord Ganesha idol for confidence self worth and personal gains. It calms negative thoughts and activates creative ideas & initiates new possibilities. It encourages perseverance. Orange aventurine increases the ability to face challenges. A crystal stones for positivity and prosperity, motivation which broadens your perspective and attracts good fortune
Orange aventurine is a peach to bright orange crystal that ranges from translucent to opaque. Orange aventurine can be speckled with tiny particles of mica which gives it a sparkly appearance.it gets its orange color from pyrite inclusion.

Orange Aventurine GANESH JII is considered a stone of good luck for,fortune,and a manifestor of exciting new possibilities.it has been called the whisper stone since the energy of this stone helps to quiet the critical and judgmental inner voice.

Orange Aventurine GANESH JI is great when dealing with issues of self worth. use orange aventurine to help you to clear blockages between the sacral and third eye chakra. orange aventurine can be used to enhance personality by channelling energy through the sacral chakra for assimilation. this also helps one to be more discerning in their application of this will, so that one is aligned with the highest vibration.
Many use Orange Aventurine to encourage perseverance.meditating with Orange Aventurine can amplify and focus energies of creativity,vitality and determination,thereby finding new ways to overcome challenges in one life.Orange Aventurine is a powerful tool for focusing prana and raising confidence in the workplace.
Aventurine heals the heart and serves as the emotional anchor that one needs during upheavals to feel stable and grounded. This results in overall good health. It is an excellent stone for connecting with the Nature Devas.
Shree Ganesha is seated pose beautifully crafted in single piece of natural Orange Aventurine. Lord Ganesh depicted in seated in Lalitasana pose reflects Him as a protector and conferrer of blessings. His upper hands are seen holding weapons while His right hand raised in Abhyam mudra signifies assurance of protection and His lower left palm holding sweet signifies the sweet fruits of Bhakti. An aura sisk at back of His head beautifully adds a beautiful finishing touch to the idol. Worshipping Ganesha confers wisdom, intellect, auspicious beginnings and removes any impediments. Idols made in gemstone create a field of energy around it thus helping elevating the power of prayers. Red Aventurine promotes passion, fearlessness, energy and life. Lord Ganesha and Red Aventurine both being associated with Root Chakra makes this idol highly beneficial in balancing the Chakra. Place the idol in your puja altar, near entrance of house or office or in study or office desk for auspiciousness.
Meticulously carved in a seated position on a lotus, this beautiful idol of Lord Ganesha in natural Orange Aventurine gemstone is sure to hold your attention. The intricate designing and an eye for detailing makes this idol a masterpiece. Lord Ganesha, also known as Vighnaharta and Sukhkarta meaning, one who removes all the obstacles and one who brings happiness, blesses His worshippers with happiness, success and wisdom.Orange Aventurine is known for transforming the focused energy into action and helps uplift spirituality. Thus, this powerful combination of divinity and healing gemstone can prove to be an omen of new positive beginning.
Additional information
| | |
| --- | --- |
| Weight | 0.082 kg |
| Dimensions | 3.5 × 2.5 × 5.5 cm |
You may also like…
Amethyst Mala / Jamunia Mala 72 Beads 8 mm & Abhimantrit

 Improving circulation and inhibiting bacterial growth (any desires to enhance physical healing via the use of far-infrared radiation in Amethyst .
Amethyst is helpful in getting rid of drunkenness.
Amethyst gemstone has countless healing properties and its rays can rejuvenate the depresed mind leading to a calm and positive mindset.

₹

2,551.00 inc.GST

Abhimantrit – Margaj Green Jade Lord Ganesh Idol ( Energized ) Weight- 95 Gram Lab Certified

Margaj Ganesh increases and intensifies the positive effects of Mercury and reduces its negative effects.

It is specifically beneficial for those natives who have Gemini or Virgo ascendant. These people should specially

worship.Margaj Lord Ganesh. It has strong energy of mantras of ganesha which gives 100% successful result for all problem. devotional and faith must in worship.

The members of the house is blessed by Lord Ganesha. All the obstacles are removed by keeping this. It brings prosperity in one's life. It removes negativity from one's life. This idol is kept in homes, office. It is very auspicious to worship Lord Ganesha on Ganesh Chaturthi, Diwali etc.

₹

4,600.00 inc.GST

Abhimantrit (Margaj) Shivling Green Jade(Big) 121Gram Original Genuine Product

Benefits of Green jade Margaj Shivling:

Used for puja and meditation of Lord shiva.
It provides mental peace and balance in life.
Margaj Shivling provides financial stability and money benefits in the business.
Green Jade lingam is supposed to hep with high temper problem and bad luck.
It provides blessings and brings emotional stability.
It brings prosperity, growth and success in life.
It is dedicated to planet Mercury (Budha Griha)

₹

3,600.00 inc.GST