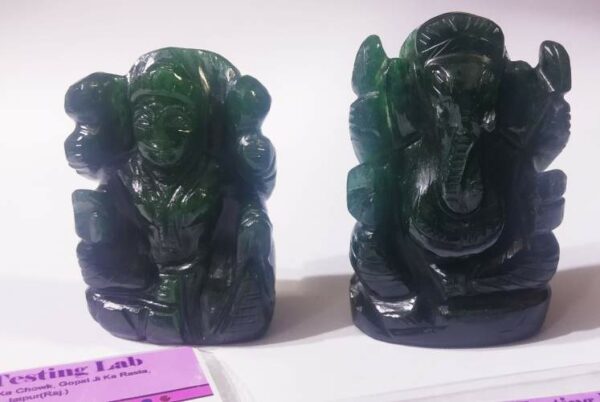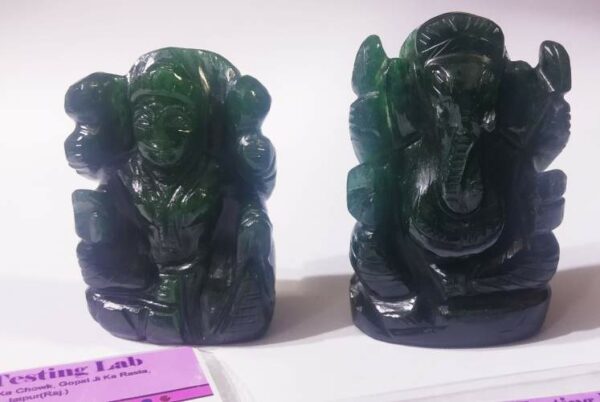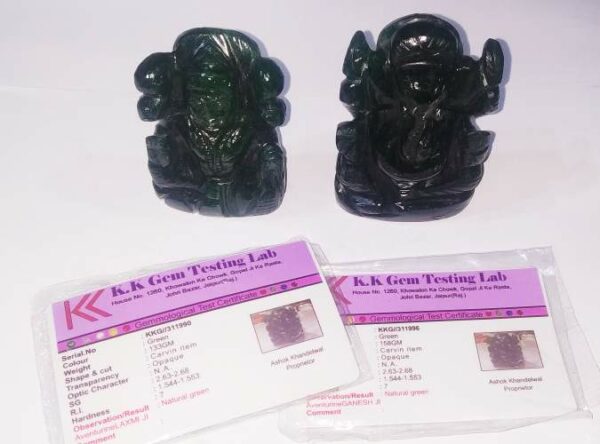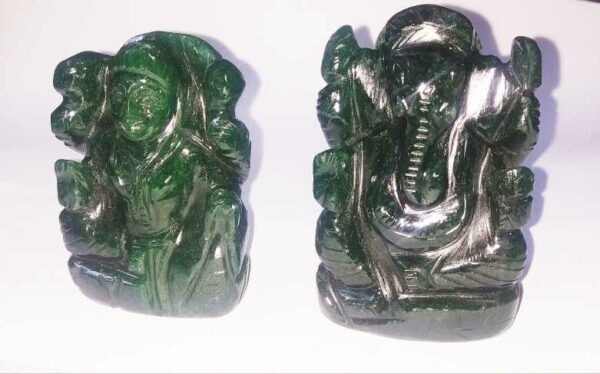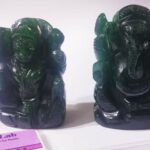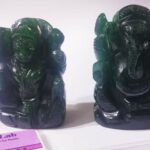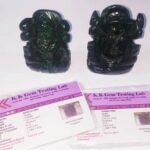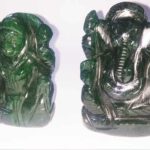 Abhimantrit – Margaj Green Jade Ganesh Laxmi Idol – 291 Gram
₹7,700.00 inc.GST
It brings prosperity in one's life.

It removes negativity from one's life.

This Idol is kept in homes, office.
Description
Additional information
Description
---
Product Origin : India
Green Jade Stone Idol Margaj Laxmi Ganesha :-291 Gram 
Margaj Laxmi Ganesha idol is worshipped to sharpen intellect and enhance health & wealth along with educational success. It helps to overcome hurdles.
If the planet Mercury is afflicted in horoscope in that case in order to give power to this planet one should worship this green color Margaj Laxmi Ganesha idol. It shall prove highly auspicious to worship it if Mercury becomes the lord of your lagna, or house of destiny in your horoscope.
Mantra :-
               "om shrim him clim glom gan ganpatye namh"
MARGAJ LAXMI GANESHA :-
This is panna and margaj made ganesha murti which is specially for growth and success in business also for good fortune.

This stachu you can keep in home or office or anywhere and your all problems, blockage in life, misfortunes and money problem will be removed.

Business not running successfully so you can keep this statue in office table and daily do worship for it.

You will feel after some days changes came into business growing successfully.

If in home everyday you face a lot of problem, respect loss, money loss and diseases so keep it at home daily do worship from anyone ganesha mantra.

after some days everything will be ok for you.
                   This murti has magical powers because it's already made from original emerald and margaj stones and it has strong energy of 12 mantras of ganesha which gives 100% successful result for all problem. devotional and faith must in worship.
                    The Ganesha is in multi colors and is looking extremey stunning as the different colors are well painted and finished. Thus, it is looking like a reflecting murti of lord Laxmi Ganpati. So, get this wow beautiful colored ganesha dumy as soon as possible. It is completely beautiful in color, which is making the dumy sweet in look. also you find a cushion in the dumy. The Laxmi ganesha murti is made up of gem stone.
Additional information
| | |
| --- | --- |
| Weight | 0.291 kg |
| Dimensions | 5 × 2.5 × 7.5 cm |
You may also like…
Abhimantrit Cat's Eye Stone (Lehsunia) Lab Certified Gemstone – 6.4 Carat

Benefits of wearing a cat's eye gemstone

It is a stone that is believed to bring in comforts to a person's life by bringing in wealth and better luck to the wearer.
Wearing a cat's eye gemstone as a talisman can give psychic protection and can guard the wearer against the effects of the evil eye.
It is a gemstone that is believed to help in healing from cancer.
Cat's eye stone acts a boon for a person who has problems with stabilizing their emotions and by wearing cat's eye they can enhance their senses and deal with the challenging situation.
Cat's eye stone helps one to strengthen their physical weakness and mental imbalances and helps to restore memory.
It guards the wearer against several serious diseases related to the heart, stomach, brain, and mind.
The Ketu dosha, which is known as one of the worst and longest remaining dosha (ill-effects) that last around 18 years will be soothed by wearing cat's eye stone.

₹

5,501.00 inc.GST