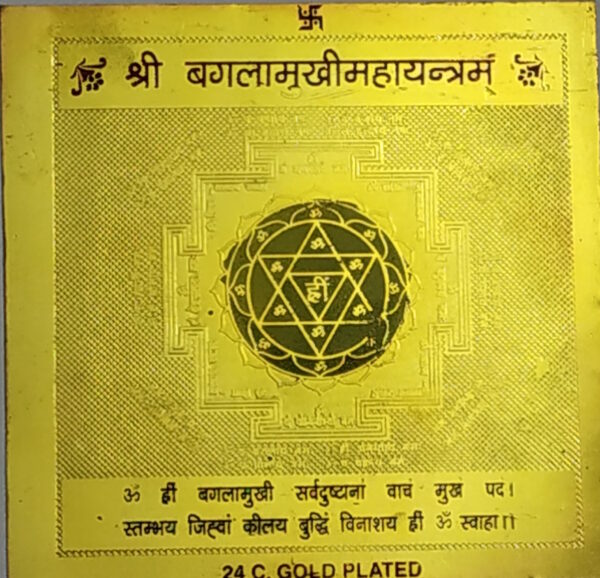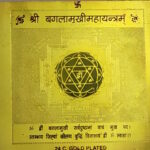 Shree Baglamukhi Maha yantra-Abhimantrit- For Victory over Enemies, Law suits, Success in quarrels, Competitions, Evil Spirit & Black Magics.
₹951.00 inc.GST
It Is Beleived That This Shree Bagalamukhi Yantra Bring Back The Lost Love In Your Life Or For Attracting / Drawing Someone In Your Life With Whom You Want To Spend Your Life.

Yantra Blesses The Worshiper With Peace, Happiness, Popularity, Power, Authority, Wealth, Prosperity & Success.

Baglamukhi Kavach Protects You From Your Enemies And Black Magic, Too

Brings Prosperity In Your Life, Increasing Wealth And Get Happiness

All Kind Of Protection Of Children's From Evil Effects, Increasing Your Spirituality Also
Description
Additional information
Reviews (0)
Description
Bagalamukhi Yantra                                                                                                                                                                                    Bagalamukhi Yantra is believed to gives protection from evil effects and fulfills all desires of the worshipper . Bagalamukhi yantra is a very powerful and useful yantra for victory over enemies, lawsuits, court cases, success in quarrels and competitions. The presiding deity goddess Bagalamukhi is the controller of this powerful Yantra and charges this yantra with occult forces. Worshipping Bagalamukhi Yantra allows you to dominate over your enemies. This yantra is worshiped to receive blessings from the Bagalamukhi Devi to attain victory over enemies, win lawsuits, competitions and success in quarrels. Godess Bagulamukhi controls bad intentions of the people and protect the worshipper who is using this Yantra. It protects and helps the worshiper to take right decisions in their life. With good intentions and following proper rituals, one can achieve blessings from Bagalamukhi Devi. By worshipping with total dedication, the worshipper can get relief from superficial obstacles and evil spirits. It makes an individual free from fear of death, deadly diseases and severe dangers. Maa Baglamukhi is eighth of the 10 Mahavidya Goddess of Hinduism. She is also known as Maa Pitaambara . Goddess Baglamukhi is the deity that controls this Yantra, by which this Yantra is charged with magical powers. Goddess Baglamukhi is the superpower who can destroy all evil powers. Devi Baglamukhi gives the devotee, the power to put an end to the enemies. Goddess Baglamukhi has been worshipped since Vedic times to obtain her blessings. This Yantra also helps the worshipper to achieve Success in competitive examinations and it is very effective to ward off evil forces and energies. Baglamukhi Yantra is very effective in court cases and law suits and if a person keeps this Yantra with him while going to court gets success every time. This Yantra also offers protection for cuts scars operations and accidents. All Kind Of Protection Of Children's From Evil Effects, Increasing Your Spirituality Also. Goddess Baghlamukhi is the eighth goddess among the Dus Mahavidyas (wisdom goddess). The word Baglamukhi is derived from the Sanskrit words Bagla and Mukhi. The word Bagla, is the distortion of the original word Valga meaning bridle. Baglamukhi thus is believed to be the Goddess who holds the power to control and paralyze the enemies. Due to her divine powers She is also known as Devi of Stambhana.  According to Svatantra Tantra, there was once a demon called Madanasura who had received a boon of 'Vaksiddhi'. On receiving the boon he started misusing it by troubling humans; he stimulated storms to kill people. On witnessing the destruction caused by the demon, the Gods ran to seek help from Lord Vishnu. Lord Vishnu started performing penances to appease Tripurasundari on the shore of a lake called Haridra Sarovar. Tripurasundari got appeased with Lord Vishnu's penance, and emerged as a deceitful Goddess called Bagalamukhi from Haridra Sarovar. Goddess Bagalamukhi first stopped the storm and then challenged demon Madanasura for a battle. She killed the demon by pulling out his tongue and breaking his skull with Her club.  According to the iconographic attributes as stated in the scriptures, the Goddess had yellow complexion, two arms and three eyes. Wore yellow clothes, gold ornaments and adorned a garland of yellow flowers. She also wore a crown of crescent moon crest jewel and Her body was anointed with turmeric paste. Goddess Baglamukhi as described also held a huge club in Her right hand. In order to safeguard yourself from evil eyes and negative energies, you can install the Baglamukhi Yantra in your house, office or even wear it as an ornament. The Baglamukhi Yantra is a sacred instrument that consists of a figure or symbol characterized by simple geometric forms arranged in a symmetric design that resonates with the powers and positive frequencies of Goddess Baglamukhi. This mystical religion based diagram has the power to attract the principles of Goddess Baglamukhi and carries the signification of a mantra or process. This powerful Yantra resonates with the positive energies of the Goddess and blesses the worshipper with success, wealth and positivity. Baglamukhi Maha Yantra is used for power & dominance over enemies. Baglamukhi Yantra is very powerful and useful Yantra for victory over enemies, law suits, success in quarrels and competitions. Goddess Baglamukhi who is the presiding deity of this powerful Yantra charges it with occult forces. The worship of this Yantra is performed in a particular star and moment when there is maximum power generated from the planet MARS, by wearing yellow dress, on yellow asana, with yellow flowers and yellow beads.This Yantra can also be used for meditating over Goddess Baglamukhi. This will help in making you more focused and mentally stable. It will also aid in attaining union with Goddess through geometric visualization. This Yantra is the window through which you can align with divine energy. Through resonance it connects you to the energy present in the macrocosm.
Mantra: Om Hlreem Baglamukhi Sarvadustanaam Vacham Mukham Padam Stambhaya Jihvaam Keelaya Budheem Vinashaya Hlreem Om Swaha
माता के मंत्र  – " ॐ ह्लीं बगलामुखी सर्वदुष्टानां वाचं मुखं पदं स्तम्भय जिह्वां कीलय बुध्दिं विनाशय ह्लीं ॐ स्वाहा।
मंत्र             – " ऊँ हल्लीं बगलामुखी सर्वदुष्टानां वाचं मुखं पदं स्तम्भय जिह्वां कीलय बुद्धिं विनाशय हल्लीं ऊँ स्वाहा !!! 
Additional information
| | |
| --- | --- |
| Weight | 0.00132 kg |
| Dimensions | 8.20 × 8.20 × 0.1 cm |
You may also like…
Shree Surya Yantra- Abhimantrit-For Fame,Health, Energy,Success and Vigour & Destroys inauspicious effects of an afflicted Sun.

Surya Yantra is used for removing the hurdles and obstacles in life. Surya Yantra represent the cosmic vibrations which align you with a particular divine energy of Lord Surya. Surya Yantra makes you more focused and connects you with the divine source. It increases the power of one's birth chart and it helps to ward off the effects of a malefic sun. It also helps to increases one's knowledge and wisdom. The Yantra makes you more focused and energetic with deeper concentration qualities. Surya Yantra enhances the peace of mind, provides favour from superiors, officers and government.

₹

951.00 inc.GST

Shree Chandra Yantra- Abhimantrit- Appeasing Planet Moon & Reduce the negative effects.

Lord Shiva Benefits: When moon is malefic in the horoscope Chandra Yantra nullifies negative effects and intensifies the positive effects. If Moon represents ones love life, the person will enjoy a very romantic and joyful love life in a harmonious manner. This yantra enhances peace of mind, reduces stress, blesses the native with respect, friendship and creates contacts with opposite sex in harmonious way. A Moon Yantra can be very helpful in rectifying these defects and it is a very good remedy when Moon is working negatively in a horoscope and at the same time it is involved in the formation of Matru Dosh or Gand Mool Dosh.

₹

951.00 inc.GST

Shree Kuber Yantra- Abhimantrit- For Peace, Happiness, Popularity, Power, Authority, Wealth, Prosperity & Success.

Shree Kuber Yantra are one of the most powerful,auspicious, important and divine object, which not only gives the maximum benefit, but also proves beneficial for almost everybody. Yantra blesses the worshiper with peace, happiness, popularity, power, authority, wealth, prosperity & success. The yantra would be blessed and energized. It promises your material comfort, a good life style and a good and steady flow of income.Known as 'Lord of Wealth', Lord Kuber is the god-king of the semi-divine Yakshas.

₹

951.00 inc.GST